5 Essential Stationery Items for School
Be Cool For School
Making sure your children have all the necessary tools for their schooling journey!
Despite many schools trading in traditional stationery for tablets and laptops, many might still prefer the flexibility and versatility of in-class hand-crafted notes and guides! To set them up for success in the new school year, check out these five essential stationery items that will get them all set for school!
1. OMNI 24 Intense Colour Pencils Set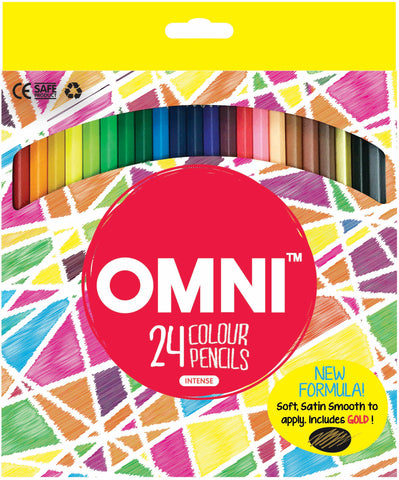 Click here to SHOP NOW
Using colour pencils is a great way to encourage creativity and better cognitive performance for children of all ages. The break-resistant OMNI 24 Intense Colour Pencils Set is the perfect pick for small hands to handle. Its rich vibrant colours really helps your creative visions leap off the page, and even includes a Gold colour pencil! In compliance with the European Safety Standard, OMNI Colour Pencils are non-toxic wax crayons wrapped in paper sleeves so it is clean and tidy to use. Start your note-taking or doodling the colourful way!
2. POP BAZIC A4 Lecture Pad (5-Pad/pack)
Click here to SHOP NOW
Screen-free note-taking can help students learn to better organise their thoughts and structure their notes. It can also make learning assessments easier for teachers. It is always handy to bring along a lecture pad for the classroom, especially when students have to manage multiple subjects in a day. Check out the POP BAZIC A4 Lecture Pads that are pre-punched with binder holes, making it easy for students to keep all their completed notes in various ring files accordingly based on the different subjects. The aesthetically-designed covers come with cute icons and meaningful quotes, bringing just a bit more cheer to each school day!
3. STABILO Exam Grade Range (2B Pencil [Twin Pack], Eraser, and Sharpener)
Click here to SHOP NOW
During an exam, good time management is often overlooked, when in fact, it is almost as important as content knowledge. Memorising the entire textbook and practising all the assessment book questions would be useless if you don't have the time to complete your exam paper. Hence, every second in the exam counts, and it's best to have everything you need with you so you can maximise your efficiency. Get the STABILO Exam Grade Range Set which includes two boxes of 2B Pencils (12pcs), an eraser, and a sharpener. The 2B pencil has improved smudge resistance for cleaner writing, and the 2.5mm wide coverage hexagonal-shaped design enables faster shading on your Optical Answer Sheets.
4. PILOT Juice Gel Pen 0.5mm (5pcs/box)
Click here to SHOP NOW
The type of pen you use can greatly affect your handwriting and it can range from looking really neat to completely illegible. Thus, choosing pens can be a tricky process! Besides the variety of colours available, you must also decide whether to go with an oil-based ball-point pen or a water-based gel pen. As you weigh out the pros and cons, why not try the PILOT Juice Gel Pen 0.5mm? This pigment gel pen makes writing smooth, bright, and water-resistant. Moreover, the durable "lift clip" lets you clip the pen easily onto your books, notes, etc. Each box contains 5 pens — now available in black, blue, green, and red ink.
5. TOMBOW Mono Air Correction Tape 5mm Refill Box (10-Pc/box)
Click here to SHOP NOW
The correction tape is always a handy tool for students, and the TOMBOW Mono Air Correction Tape is one that's equipped with the Air Touch System which reduces the effort required to apply the tape. The high-quality tape adheres strongly to paper and is also tear-resistant even when overwritten. Moreover, it includes a one-touch cover that can be easily opened and closed with one hand, thereby preventing the tape from being damaged in your pencil case. Most importantly, it is an Eco Mark certified product, as you can easily refill the cartridge at a lower cost. Now that's a deal that keeps on saving!
By Jeslyn Say