WACOM Intuos S
With a light, super-accurate pen and free downloadable software to suit your style, Wacom Intuos is built to bring your wildest ideas to life.
The first thing you'll notice when using Wacom Intuos is how natural it feels. Thanks to EMR (Electro-Magnetic Resonance) technology, the battery free pen with 4,096 levels of pressure sensitivity provides a natural drawing experience that can keep going as long as you do. Whilst its ergonomic design and light weight make it sit comfortably in your hand, allowing you to experience both precision and control.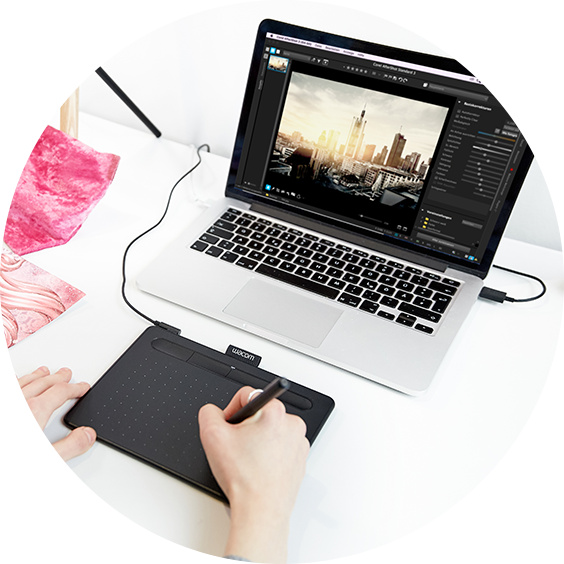 Features
Control and precision thanks to the pen's 4,096 levels of pressure sensitivity.
EMR (Electro-Magnetic Resonance) technology means the battery–free pen is light and comfortable to use.
100 lines per mm recognition lets the tablet know exactly where your pen is.
Just 8.8mm thin, the tablet is as slim and sleek as a smartphone.
2 pen buttons for quick access shortcuts.
4 customisable ExpressKeys™ for faster, efficient shortcuts.
7-inch active tablet area on small model. 10-inch active area for medium models.

Strong and Stylish Pen
4,096 levels of pen pressure sensitivity
+/- 0.25 mm digital tolerance in accuracy
No batteries or recharging
7 mm reading height
Complementary Software Included
Corel® Painter® Essentials™ 8

 

(90 days license)
Corel® Aftershot™ Pro 3

 

(90 days license)
CLIP STUDIO PAINT PRO

 

(2 years license)
*To get your complimentary software you need to sign-in or create a Wacom ID with your personal data and register your Intuos. Clip Studio Paint Pro (2-yr license), Corel Painter Essentials 8 (90-day license), Corel AfterShot Pro 3 (90-day license). Additional registration with software vendors might be required. Number of available software depends on the model.
Compatibility
Windows 7 & later
Mac OS 10.11 & later
Android Device 

[OS info not available]
*Connection to select Android devices requires an additional 3rd party adapter. Check out the list of compatible Android devices and 3rd party adapters at www.wacom.com/comp
Getting Started
For more information to set up your Wacom Intuous Pen Tablet
Whats in the box?


1x Wacom Intuos Small Basic Pen Table - Black (Without Bluetooth)
1x Pressure-sensitive, battery-free Wacom Pen 4K
1x PVC-free USB cable with cable tidy and L-shaped connector
3x Extra standard nibs (located inside pen)
1x Nib removal tool on end of pen
1x Quick start guide
1x Regulation sheet

Warranty

1 Year Local (Singapore) manufacturer warranty

Full technical specification

Tablet Information
Size (mm): 200 x 160 x 8.8
Active area (mm): 152 x 95
Active area (inch): 6 x 3.7

Pen Specification
Pen name: Wacom Pen 4K
Pen pressure levels: 4096
Pen type: Wacom Pen 4K (LP-1100K)
Number of switches: 2 side switches
Pen tilt supported: No
Pen resolution: 2540
Pen technology: Patented electromagnetic resonance method
Reading height: 7mm
Maximum report rate: 133 pps
Pen weight: 11.2g including 3 nibs
Number of nibs: 4

Touch Specification
Multi-Touch: No